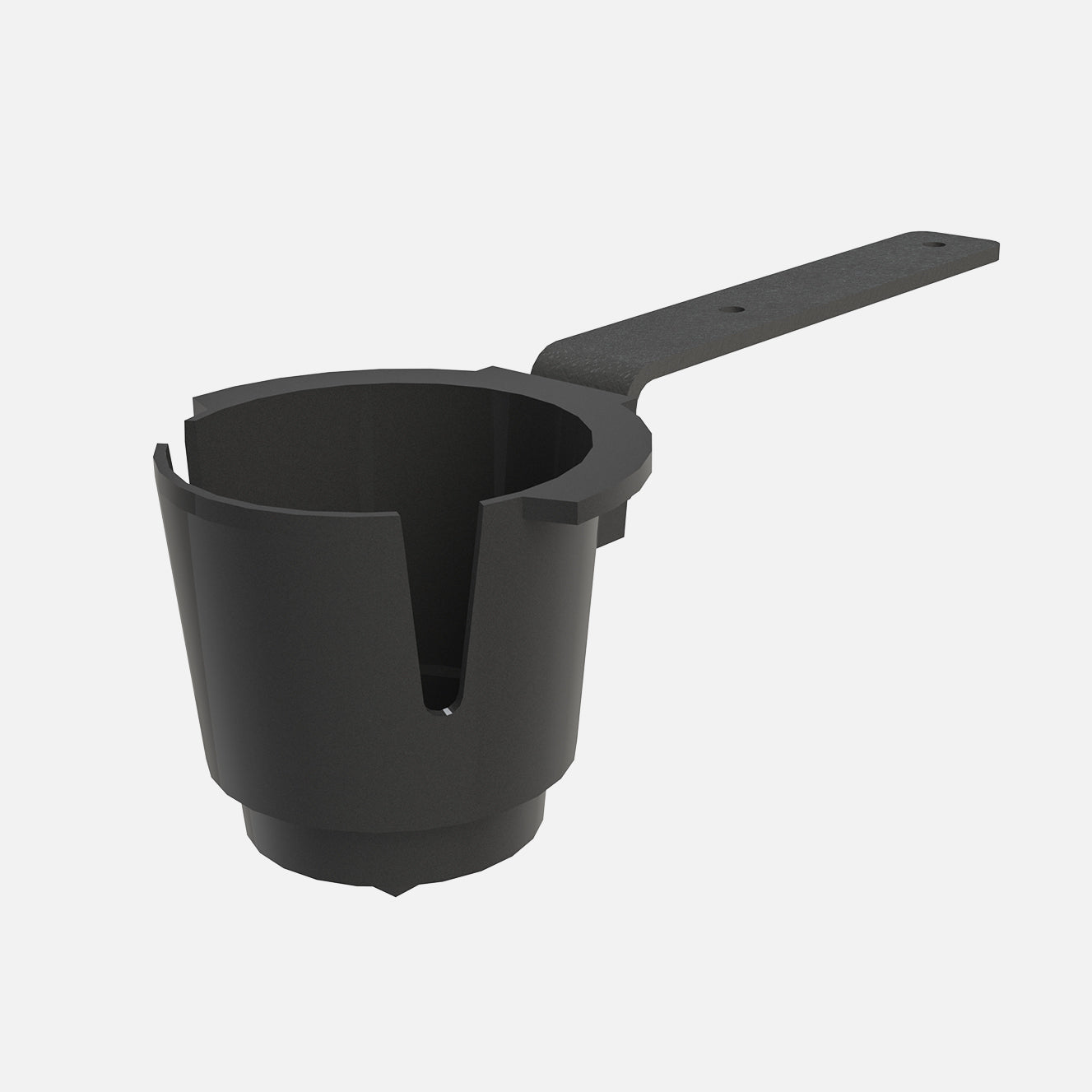 Cup Holder with Aluminium Bracket
---
An optional cupholder is available for the SHOCKWAVE Commander Seat. It can be attached to either side of the armrest with a black aluminum bracket. Available in black, this cup holder will hold your coffee, a can, or a generous sized cup or bottle.
SKU: SW-01688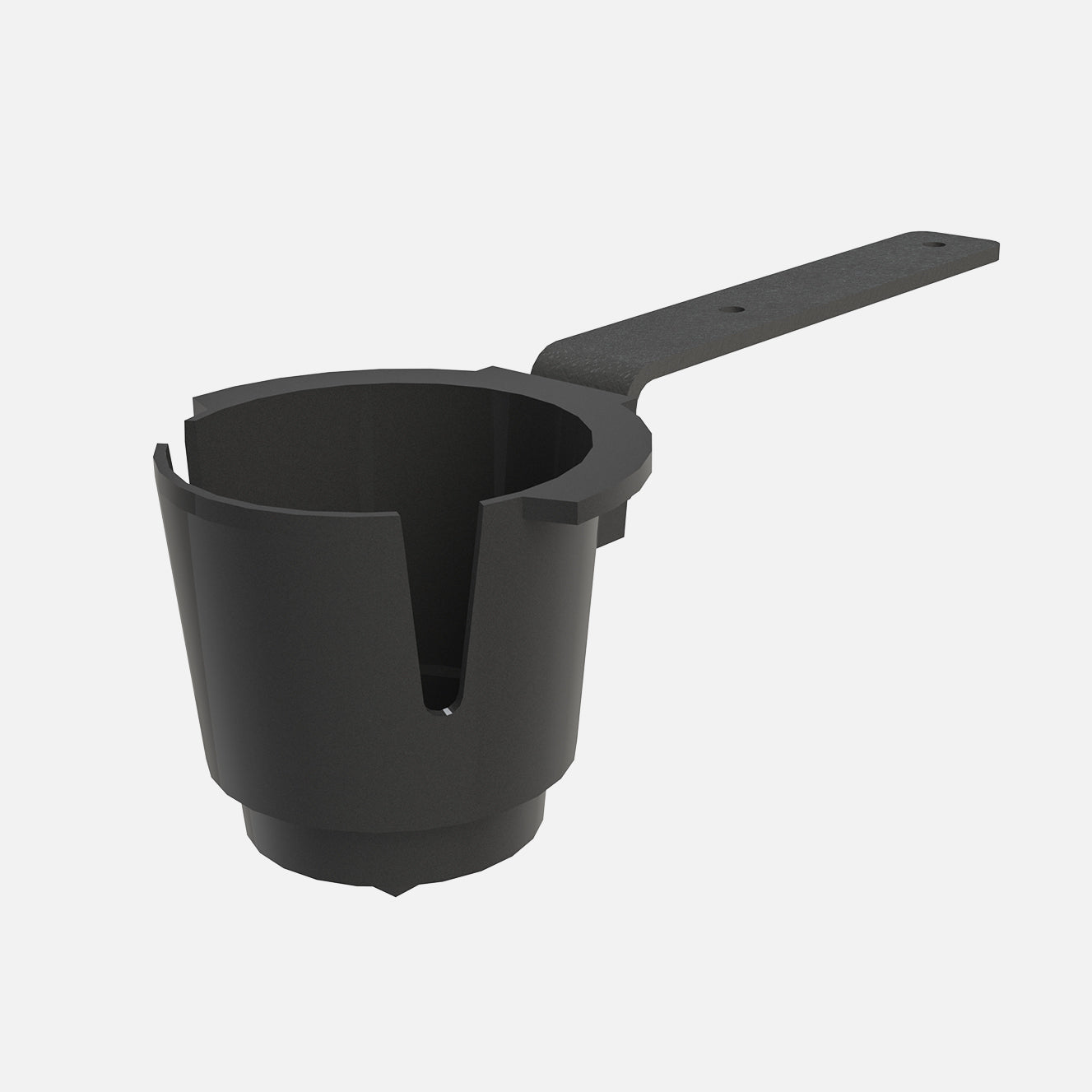 Contact Our Sales Team
Questions?
Reach out to our sales team if you have any questions about this product.
Please fill out this form for an inquiry, send an e-mail to sales@shockwaveseats.com or call 1.778.426.8545
Our customer support is available Monday to Friday: 8am-5:30pm.
Is there an advantage of buying through a dealer?

Ordering through a dealer enables you to talk to real people about the product and ask questions ahead of making a purchasing decision. Our dealer's prices are often better than on our website. Our dealers can generally get your products faster than purchasing direct through our website. Some dealers may display products in their store so you can actually sit on the suspension seat and see how it works, prior to purchasing. Also, some of our dealers stock product, so you can walk away with your new S5 Sentinel Suspension Module.

Yes, we ship all over the world. Shipping costs will apply, and will be added at checkout.
How long will it take until I get my order?

It depends on where you are. Orders processed here will take 5-7 business days to arrive. Overseas deliveries can take anywhere from 7-16 days. Delivery details will be provided in your confirmation email.
How much does the Commander Seat weigh?
Are black & white the only colors available fot the Commander Seat?

Yes, for standard order seats, but any colours from the below link's "Advantage Marine Vinyls" or "Softside Collection" can be special ordered for no extra cost. The lead time will be about 6 weeks. Here is the link to our custom upholstery colors:
Upholstery Colors
Can I get a cup holder with the Commander seat?

Yes, the part number for the cup holder is: SW-01688
Does the white seat come with white armrests?

Yes, it does come standard with white molded armrests.
What should the seat sag be?

If PSI is set correctly, the sag should be at about 20-25%. Set at 'Soft' setting to start.

3/4" compression when seated. Allow for 20% sag.
Can I purchase Heated Seats?

Yes, we have heated seats. They can be special ordered through your Dealer. Lead time is about 8 weeks. Available in black.
How is the Heated Seat provided?

Each heated seat is supplied with a wiring harness and illuminating rocker switch to simplify installation. The cushions are connected to a 10' wiring harness using waterproof connectors which allows the switch to be mounted up to 10' (304cm) away from the seat – such as on the helm console. The illuminated rocker switch provides a quick check visual indicator that the seat is ON. Also, the cushions can be wired directly into an existing switch panel on your helm console, or elsewhere. Each seat should be installed with its own switch, rated for a minimum of 6 amps.
How do I purchase a Jockey seat?

Jockey Seats are available through your dealer, as a special order. They have a longer lead time than the regular S5 Sentinel Base, generally 4-6 weeks.
How high is the Swivel/Slide and Slide?

The Swivel/Slide adds 2" (5cm) of height and the Slide adds 1.2" (3cm).
How much travel does the Slide provide?

The slide offers 5" (13cm) of fore/aft travel.
Does the Swivel/Slide for the S5 Sentinel add much play or movement to the seat?

It has very little lateral play. Likely less play than any other swivel or slide you will find on the market.
How many positions does the Swivel have?

The swivel turns 360 degrees, and has 16 positions it can lock into.
Can I use the S5 Sentinel Suspension Base with a Shockwave accessory, paired with a non-Shockwave seat?

Should you decide to add a SHOCKWAVE swivel, slide or swivel/slide accessory, you might want to go with our seat as well. Our seats were designed to work with our accessories. Therefore, if you want to use our accessory with a non-SHOCKWAVE seat, you will need to add an adapter plate that enables them to bolt the seat of your choice to our slide/swivel accessory. We sell a 5"x12" adaptor plate. Call for details.