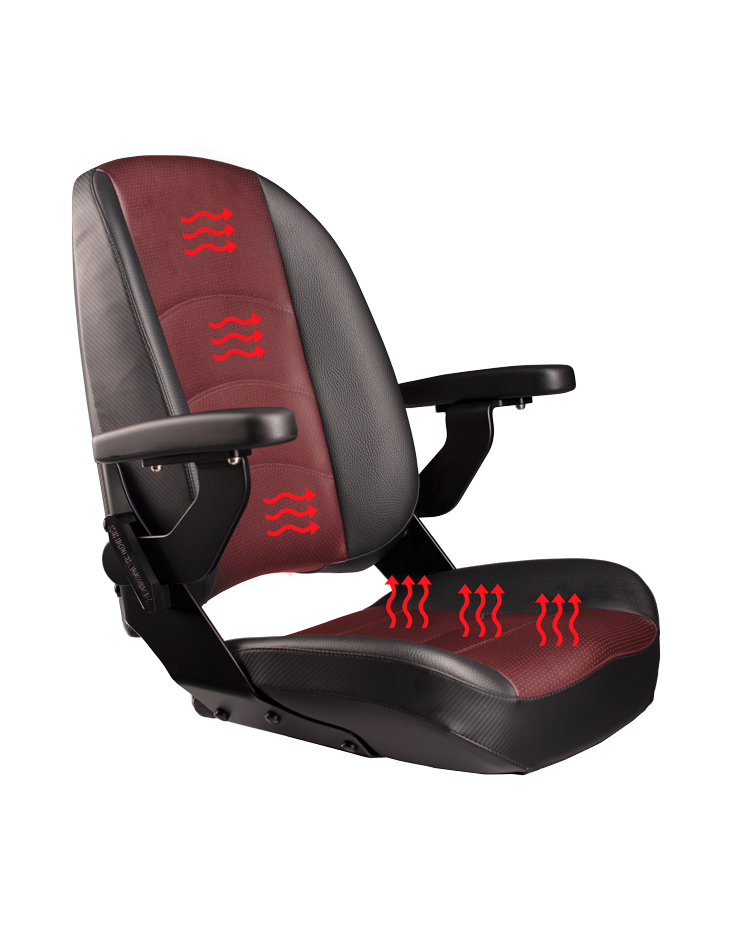 Commander Heated Seat
---
The Commander Heated Seat offers both a heated back and a heated seat cushion, ensuring the occupant really feels the warmth. The cushions will heat up to a pleasant 98°F (38°C), ensuring a comfortable trip in the winter months and shoulder seasons in northern climates.
Each heated seat is supplied with a wiring harness and illuminating rocker switch to simplify installation. The cushions are connected to a 10' wiring harness using waterproof connecters which allows the switch to be mounted up to 10' away from the seat – such as on the helm console. The illuminated rocker switch provides a quick visual indicator that the seat is ON. Also, the cushions can be wired directly into an existing switch panel on your helm console, or elsewhere. Each seat should be installed with its own switch, rated for a minimum of 6 amps.
Designed to pair perfectly with the S5 Sentinel and the S6 Suspension Module, the Commander Seat is a light-weight, robust seat that comes with folding armrests, a storage pocket, aluminum seat frames and fiberglass seat backs with high quality upholstery.
Lead time for the Commander Heated Seat is a minimum of 8 weeks.
SKU: SW-06987-B
Spec Sheet & Dimensional Drawing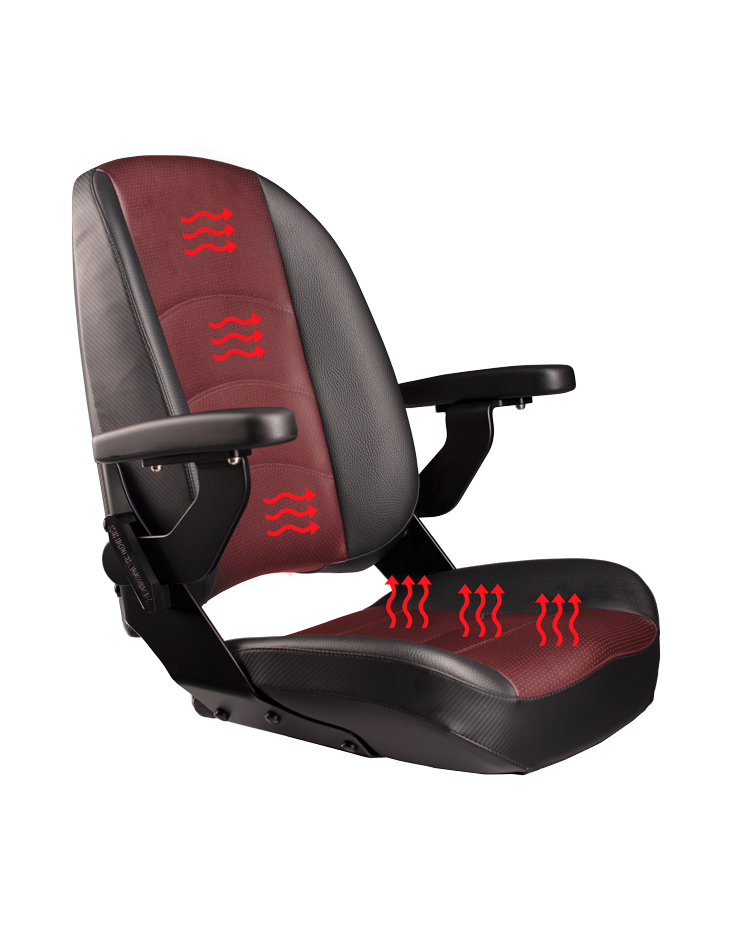 Contact Our Sales Team
Questions?
Reach out to our sales team if you have any questions about this product. Please fill out this form for an inquiry or call 1.778.426.8545
Our customer support is available Monday to Friday: 8am-8:30pm.
FAQs
Use this text to share information about your product or shipping policies.
Is there an advantage of buying through a dealer?

Ordering through a dealer enables you to talk to real people about the product and ask questions ahead of making a purchasing decision. Our dealer's prices are often better than on our website. Our dealers can generally get your products faster than purchasing direct through our website. Some dealers may display products in their store so you can actually sit on the suspension seat and see how it works, prior to purchasing. Also, some of our dealers stock product, so you can walk away with your new S5 Sentinel Suspension Module.

Is it necessary to buy a SHOCKWAVE shock pump with my S5 Sentinel Suspension Base?

Yes, every boat should have one pump onboard, regardless of how many SHOCKWAVE S5 Sentinels are installed. You will need the pump to adjust the pressure at set-up, and the pump will need to be used if an occupant much heavier or lighter than the primary occupant (more than a 50lbs difference) is using it. Also, the pressure should be checked every year and the S5 Sentinel may need to be adjusted slightly.